Basic Training in Music Skills
Basic Training in Music Skills is an academic curriculum for introductory music theory and aural skills which I have developed over my years teaching music theory, aural skills, music history and world music.  Basic Training in Music Skills is divided into two interlocking sets of materials: comprehensive workbooks for undergraduate collegiate and high school AP music theory and analysis and a set of computer applications for aural skills and music fundamentals.  The Basic Training in Music Skills curriculum has proven highly successful at my university (North Carolina Central University) and has been successfully used at other institutions.  I am now offering my products to the public through my private publishing company.  In this way, I am able to offer customized service to institutions, altering the format and content to suit your curriculum orientation.
The descriptions below will give an idea of what these materials offer.
Basic Training in Music Skills
Music Theory Workbook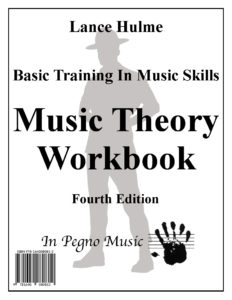 Worksheets, worksheets, worksheets!
Perhaps you are where I was when I began teaching music theory. Having no materials of my own, I looked for a good workbook to use in my classroom and for homework assignments. None were satisfactory: either they contained too few exercises to effectively teach and practice or they were linked to a specific textbook and its pedagogy. Just as often, the worksheets did not progress at a rate achievable by the student mean of any given music theory course.  I was spending as much of my time writing daily exercises, homework, quizzes and tests as preparing good lectures and effective teaching methods.
So, I decided to make my own workbook.  This workbook would emphasize practical, systematic understanding of music fundamentals and theory and instill these methods by drilling individual skills until they were fully assimilated by the student.  I would emphasize the practical over the theoretical with the understanding that an immediate grasp of how to complete a given task would lead in due time to a wider conceptual understanding.
The Basic Training in Music Skills Music Theory Workbook is a step-by-step breakdown of musical structures and concepts into individual worksheets.  Each worksheet is accompanied by a second self-study worksheet which duplicates the tasks of the first but with an answer key for immediate reinforcement. The workbook is organized to progressively introduce critical thinking and creativity with the goal of giving the beginning musician all the theory and analysis skills needed in day-to-day professional musical life.
My method for using the workbook is to introduce a new concept or structure and assign a worksheet.  For example, triads: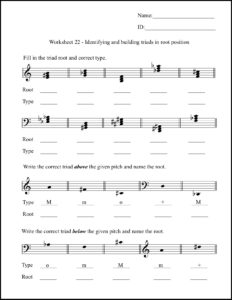 At the beginning of the next seminar, I review the topic and introduce various methods for completing the task.  We then correct the worksheet together with a combination of my demonstrating several different ways to achieve the solution and student demonstrations of their method for successfully completing the assignment.  At the of the seminar, I remind students of the "a" form of the same worksheet.  This is a second version of the same format but with new queries.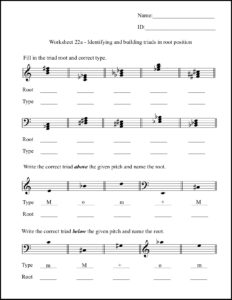 If a student has not fully assimilated the skill or concept, he or she is encouraged to complete the second worksheet on their own.  The answers are provided in the online answer key.  These second "a" worksheets have other practical uses.  After the introductory lecture the student is uncertain they have fully comprehended the materials, can try a few problems on the "a" version, checking to see if they are on the right track.  The "a" versions also provide ready-made review materials for both instructor and student for use in and out of the classroom.
The Basic Training in Music Skills Music Theory Workbook encompasses a complete traditional four-semester undergraduate harmony-based music theory curriculum.
The Instructor's Edition of the Basic Training in Music Skills Music Theory Workbook contains answer keys for all the worksheets as well as quizzes and tests (two for each section – here again, one quiz or test can be used for test preparation and review).  A .pdf copy of the Instructor's Edition is included free with any workbook order for an assigned course.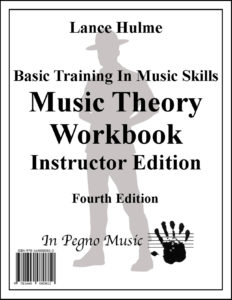 An advantage to offering the Basic Training in Music Skills Music Theory Workbook through my own publishing company is flexibility.  Special requests and customization of workbook orders are easily handled.  For example, some may wish a self-study version which would only include the "a" version worksheets.  Others may wish a workbook only covering structures, omitting analysis and orchestration worksheets.  All these issues, as well as price structure, binding options and delivery methods are handled personally by me.
Click below to view
the complete Student Edition of
Basic Training in Music Skills
Music Theory Workbook
Questions?  Further information?
Please contact me at
Basic Training in Music Skills
Analysis Workbook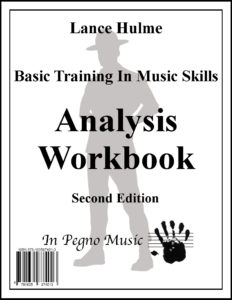 The Basic Training in Music Skills Analysis Workbook is designed to teaching analysis skills through student participation.  This description is presently under construction.
Basic Training in Music Skills
Aural Skills Trainer

Under construction